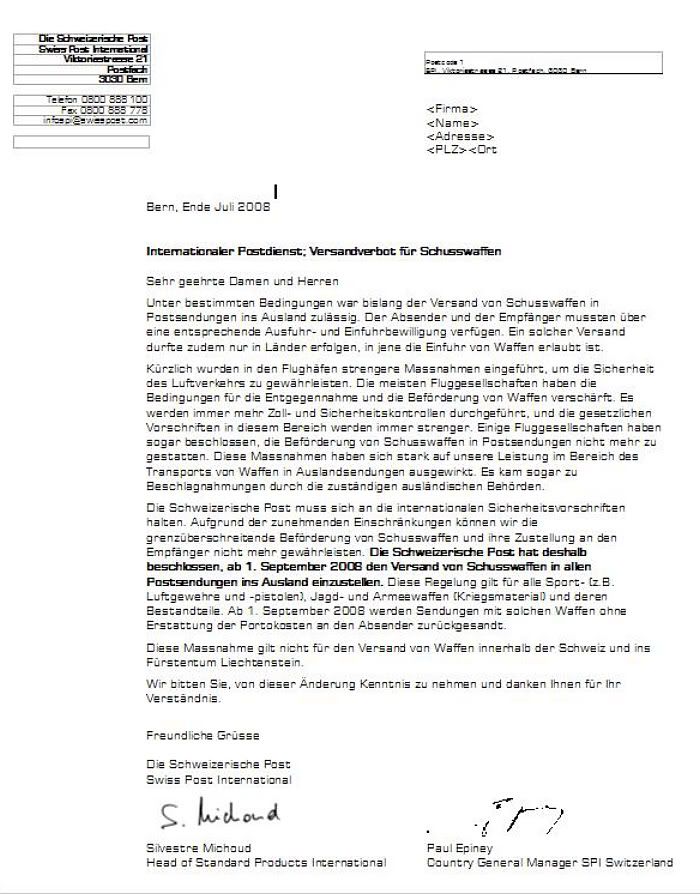 And a translation by Blindgänger....
Bern, end of July 2008
International Postal Service: Shipping Ban for Firearms
Ladies and Gentlemen:
Under certain conditions, the shipment of firearms in postal dispatches abroad was permissible up to now. The sender and addressee, however, had to be in possession of a corresponding export- and import permit. In addition, such a shipment could take place only into those countries in which the import of weapons is permitted.
Stricter measures were recently introduced in airports in order to ensure the safety of air traffic. Most airlines have tightened up the conditions for the receipt and the transport of weapons. More and more customs and security checks are being carried out and the legal regulations in this area are becoming ever stricter. Some airlines have even decided no longer to permit the transport of firearms in postal dispatches. These measures have strongly affected our performance in the area of the transport of weapons in dispatches abroad. There were even seizures by the responsible foreign authorities.
The Swiss Post must abide by the international security measures. Because of the increasing restrictions we can no longer ensure the cross-border transport of firearms and their delivery to the addressee.
The Swiss Post has therefore decided to discontinue the shipping of firearms in all postal dispatches abroad from 1 September 2008.
This rule applies to all sport- (e.g., air rifles and -pistols), hunting- and army weapons (war materiel) and their component parts. From 1 September 2008, dispatches with such weapons will be returned to the sender without refund of the postage.
This measure does not apply to the shipment of weapons within Switzerland and into the Principality of Liechtenstein.
We ask that you take note of this revision and we thank you for your understanding.
Friendly greetings,
The Swiss Post
Swiss Post International
______
So far there are no other transporters known that are able to transport firearms door to door straight from Switzerland at a reasonable price.
This means the end of international business for many smaller dealers and companies like gunfactory.ch.
Guisan.